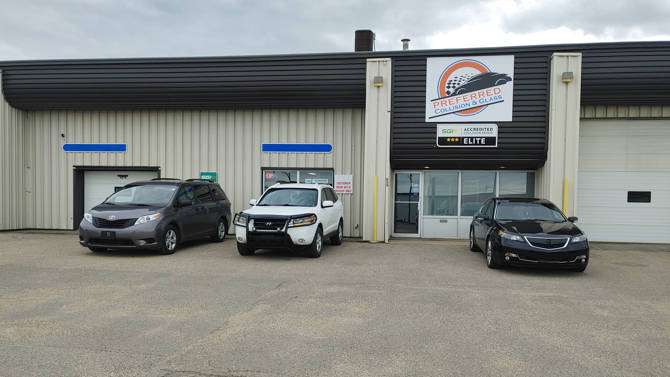 Since 1993 Preferred Collision and Glass Repair and Auto Painting has been providing collision reapir services to Saskatoon and area. With new ownership in 2008 we have been striving to change peoples experience with collision repair.

We are continuing to improve all aspects of our business and your experience with us. We are not perfect, but we learn, grow and improve on those past errors to make us better and your time with us the best experience possible.

We are the first collision repair facility on western Canada to change over to environmentally friendly water borne paints from Sherwin-Williams. As well, we changed to all low VOC products for the health of our employees and for the enviroment. We have the most experience in dealing with water borne painting to ensure that your vehicle has a correct colour match to the OEM finish.

In 2010 we renovated our building to add on additional services to our huge customer base. We added work areas for automotive glass repair and replacement and full auto detailing for those discerning customers that want their vehicle to look its best..

We are proud of the fact that our charity of choice is The Children's Wish Foundation. We have supported many of their efforts and events.

With our focus on customer care and satisfaction we have implemented programs to facilitate the ease of what any customer must face to have a vehicle repaired.

With our Customer for Life philosophy we want to make not only your repair process as easy on you as we can, but also your future needs for your vehicle care.

All of us at Preferred Collision and Glass look forward to serving you in the future for whatever your vehicle collision repair, painting or auto glass needs are.

Come on down to see us and we promise you'll love the work, love the price and love the service.